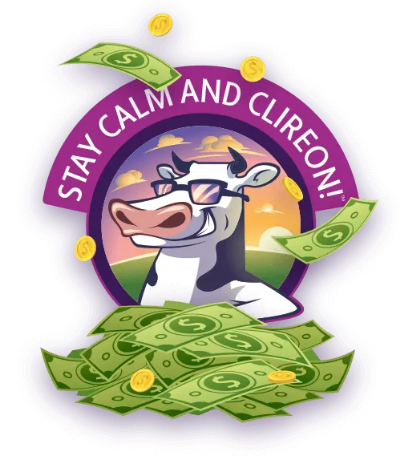 Referring was never so rewarding!
Partner with the animal health brand you love and earn up to 15% commission rewards!
Clireon's Affiliate Program rewards you for referring your friends, family, colleagues, and beyond! The Clireon Affiliate Program allows approved websites (affiliates) to link to www.clireon.com and begin earning commissions on click-through sales.
You can receive up to 15% commission on the total purchase price of Clireon products (excluding tax and shipping) purchased on Clireon.com from your unique URL tracking link or coupon codes.
Clireon handles order fulfillment, shipping, and customer service; you simply send us the purchasing traffic.
Becoming a Clireon Affiliate member is simple. Click here to complete an online application, and you will be notified via email once your application is approved. The email you receive will include a link to your Clireon Affiliate dashboard and instructions for using your dashboard.
We make promoting products and driving sales easy for our Clireon Affiliates! In addition to your unique affiliate link to Clireon.com, you will have access to Clireon™ digital display banners, logos, digital product ads, and coupon codes. These will help you promote Clireon™ on your websites and social media platforms as well as in your emails and newsletters.
When a customer visit through your unique affiliate link to Clireon.com results in a product purchase, you will earn a percentage of the sale. We take care of order fulfillment and customer service. We also keep track of your sales and send your commission to your PayPal account. (Please read the full terms and conditions regarding earned commissions and payout.)
Fill out our Affiliate Registration form
and click "Submit" to sign up!
After you complete the online application on the registration page, Clireon™ will provide email notification of your approval status, typically within 3-5 business days. If approved, you can access your account and start sharing links/banners. Visitors can click and purchase an item through the links/banners. Commission fees are paid on a monthly basis. 
Frequently Asked Questions
HOW ARE ORDERS TRACKED & CREDITED TO MY SITE?
By carefully following the instructions for collecting and placing links from your site to Clireon.com, you will enable clear tracking. Through this tracking, you will see the sources from which your visitors navigated to your link and which visitors made a purchase. We employ cookie technology for these purposes; links from your site contain your site's unique source ID. Every time a user comes to us via your links, we know to credit you when a customer makes a purchase.

CAN I TAKE ORDERS ON MY SITE? 
No. To ensure product availability, tracking, reporting, and superior customer service, we must host the transaction. We take care of the order, customer service, and fulfillment so you can focus on your website and traffic development.
DO YOU HAVE ONLINE REPORTING? 
Yes. Once you have been accepted into the program, you will be given access to your Affiliate Partner Tracking Dashboard. You will be able to view your earnings and traffic reports at any time. These reports not only show you what you earn, but they also track other site performance indicators that will assist you in fine-tuning your participation and maximizing your income potential.
DO I EARN COMMISSIONS ON MY OWN PURCHASE? 
Yes. You can earn commissions on any purchases you make from visiting Clireon.com through your own site's Clireon Affiliate Program link.
WHAT ABOUT PRODUCT RETURNS?
If a user returns a product for a refund, or if credit card charges are reversed due to a dispute or credit card fraud, your account will be debited for any commission earned on that transaction. If a product is returned in exchange for a new product, or if goods are lost or damaged and we ship replacement goods to the customer, your commissions will not be affected.
Read the affiliate terms and conditions and fill out the online application. You will be notified when your site has been accepted. During the evaluation period, we will visit your site and make sure it is an appropriate match for the Clireon Affiliate Program. Upon approval, you will be given detailed instructions on how to log in to your account area, select your links, and place links. You will have a variety of banners, buttons, and text links from which to choose.
The Clireon Affiliate Program allows you to earn a commission by linking visitors from your website to Clireon.com. It is also an excellent way to enhance your site and offer more value to your customers. By placing Clireon.com banners, buttons, or promotional links within your website, proprietary newsletter, or e-mail, you will earn a percentage of the sale when a visitor makes a purchase from Clireon.com through your link. We take care of all the order fulfillment and customer service. We also keep track of your sales and send your earnings to you monthly via PayPal. If you do not already have a PayPal account, you will need to create one.
Membership in the Clireon Affiliate Program is free and easy! Our affiliate program adds value to your site, encourages repeat visitors, and earns commissions for you while we handle order fulfillment and customer service.
Restrictions on promotion

The Clireon affiliate program is designed for affiliates to promote via their legitimate channels of influence only. Promotion via paid traffic (including any adword campaign), re-targeting, discount and/or coupon site, or any other method that in the sole discretion of Clireon is not in accordance with the letter and spirit of these terms and conditions will result in any commissions so resulting being denied and puts your continued participation in the Clireon program in jeopardy.
Legal Compliance

All affiliates must comply with all federal, state and local regulations within your jurisdiction. This includes applicable governing marketing emails (ie CAN-SPAM Act), and all other anti-spam laws. Clireon reserves the right to suspend or remove affiliates from our affiliate program at any time, without warning. Upon termination you agree to discontinue use of all links, logos, banners and promotional materials provided to you by Clireon. Affiliates terminated due to malicious publishing tactics will also have commissions revoked and face possible omission from the Clireon network.